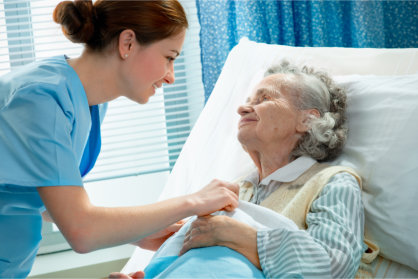 Breathing difficulty can be experienced by people who are suffering from a terminal illness in hospice care setting as they experience a near-death situation. This condition is called dyspnea which can sometimes arise without warning.
Those who experience dyspnea feel tightness in chest or shortness of breath. Sometimes, the respiration of the person will increase and his/her chest may constrict as he/she attempts to get enough air while breathing. Lips and nail bed discoloration can take place if the oxygen level of the person is seriously compromised.
Why Dyspnea Occurs
In end-of-life situations, shortness of breath can happen due to many reasons. Usually, it has to do with the person's underlying illness, particularly if it is a respiratory disorder like Chronic Obstructive Pulmonary Disease (COPD) or lung cancer. There are also secondary causes of dyspnea like chemotherapy or pneumonia. Usually, there are many factors which contribute to the shortness of breath in people with a terminal illness.
Medical Treatments and Interventions in Hospice
Hospice and palliative care are meant to offer comfort to patients with a terminal illness. So when a patient experiences dyspnea, it may not be necessary to call 911. If your loved one experiences shortness of breath, call his treating doctor right away. The medical professional will guide you in the right treatment to offer comfort. In case your loved one is under hospice care in Central Ave Riverside California, contact the hospice agency right away to get instructions over the phone while you wait for the hospice nurse to assess the symptoms of the patient.
Medical interventions and treatments for dyspnea in hospice care setting concentrate on relieving the feeling of breathlessness. The involve administering oxygen to help the patient breathe. Also, if your loved one has a chronic disease like a COPD, it may be necessary to re-asses and adjust his medicines for that disease. The following medicines are often prescribed to patients experiencing dyspnea.
Bronchodilator medicines. These are effective in cases where the shortness of breath happens party when the smooth muscle which narrows the lung's airways contract. People with COPD are usually treated with these drugs.

Anti-inflammatory drugs. In COPD and other serious respiratory diseases, the airways are inflamed which causes the narrowing of the air passages. Treatment includes reducing the inflammation using oral medication or inhaled drugs with corticosteroids and other agents.

Opiates. Narcotics such as morphine can help in some cases to decrease dyspnea in very ill cancer patients, for instance.

Anti-anxiety medicines. When anxiety makes dyspnea worse, calming medicines such as anxiolytics may be prescribed.
What to Do During Treatment or While Waiting for Medical Help
If your terminally ill loved one is in your house and starting to experience shortness of breath, there are things that you can do to reduce the severity of the condition. The following tips can be done while your loved one is being treated or while waiting for his doctor or nurse to arrive.
Maintain a comfortable atmosphere in the room. It is important to ensure that your loved one's room is cool. Let him wear lightweight clothing. Check the humidity and increase the level. Let cool air blow across your loved one's face to reduce dyspnea. Open the window to offer fresh air or breeze.

Try relaxation techniques. Help your loved one feel relax by playing a relaxing music or giving him a massage. Also, consider using meditation or guided imagery.

Give emotional support. Make sure you listen closely to what your terminally-ill loved one says and then offer reassurance.
Hospice care is important for people with a terminal illness for pain management, medical care as well as emotional, spiritual and social support. Ambercity Hospice offers compassionate care not only to patients but also to their families. To know more about our hospice services, please call us at (951) 686-8100.
---
Disclaimer
Blogs, content and other media uploaded online are for informational purposes only. Contents on this website should not be considered medical advice. Readers are strongly encouraged to visit their physician for health-related issues.
---